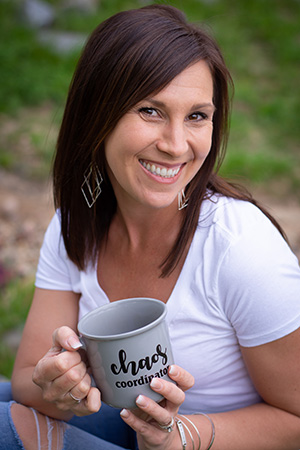 Alicia Gibson is a mama of 5 – 4 boys and 1 girl, a high school English teacher, a professor, and a health and wellness coach, who likes to say her real job title is Chaos Coordinator. She holds a Masters of Education in Crosscultural Teaching and a Certification in Health and Wellness coaching, which have allowed her to do two of the things she loves most: teach and encourage those around her. By sharing her faith and hope in God along the way – and with her very real understanding of the busyness of momlife – Alicia's down-to-earth and humorous approach to motherhood is relatable and authentic.
Alicia resides in San Diego with her husband, children and puppy, Izzie – where they are most likely wandering around the aisles of Target or sitting in the stands at the Little League field.
Alicia is available for speaking engagements, workshop organization and implementation, and guest speaking on podcasts, radio shows, or talk shows. Additionally, Alicia offers personal coaching.